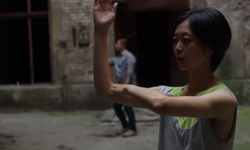 INK AGOP (www.inkagop.com)
Born in Japan, Ink Agop is a video artist based in Berlin. She is mainly working on video installation and is also the director of the video production "Rec Lab" (www.rec-lab.net).
Midnight sun (5'00)
Dance performance video. We do not invent something new. We just follow multilayered patterns of the tracks that were left here over the decades. Making them visible by listening to the magnetic energy of this space, passing this energy through our bodies, and sending it back into the forgotten history. We do not finish anything. We just become another layer of the tracks.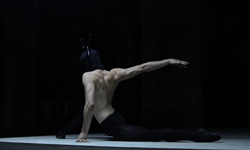 LEON BARTH / REBECCA BRODSKIS (www.rebeccabrodskis.com)
Leon Barth was born in 1986 in Germany. He is a conceptual artist, a promoter and a curator. He often works on the themes of gender and identity.
Rebecca Brodskis was born in 1988 in France. She studied painting at the ateliers des Beaux Arts de la ville de Paris and at Central St. Martins College of Art and Design in London. She is now based in Berlin completing a master degree in sociology as well as painting and collaborating on various video projects.
Blind shadows (1'17)
A metaphor of the human condition portrayed by the evolution of two dancers blinded by masks in an old electric power plant. A reflection of a reckless humanity in a post-industrial society. The eternal hope of awakening broken by rationality.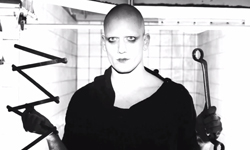 Shift (2'23)
From one shift to another one, life goes on in a sort of infinite spiral. No reflection possible for this slave-human, following unconsciously a given path until he finally breaks out.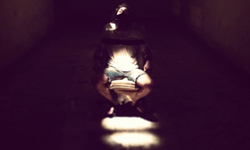 IDO BERCOVIER
Born in 1984 in Jerusalem, Ido Bercovier is a media based artist. In his work he deals with politically charged materials through ways of performance and documentation.
Pact (5'5)
In the work Pact Bercovier plays a victim that is forced to undergo a circumcision. The stylistically cinematic work deals both with the Jewish ritual while also dealing with questions of initiations and narratives.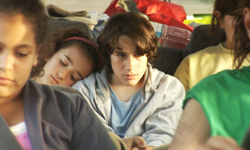 TOM N GARBER
Born in 1978 in Israel, Tom N Garber graduated from "Minshar" film department in 2012. The film won an "honorary mention for a shirt Israeli film" in the Proud Film Festival in Tel aviv. Today Tom N Garber splits his time between Tel-Aviv and berlin, currently working as a scriptwriter.
Crabs in the sand (10'30)
Noam, 13, is spending his afternoon with his little sister Maayan 10, and their two girlfriends, Elinor and Tami, waiting on the beach for girl's father to come back from a visit at a prostitute. The kids meet Michael, a 30 years old retard, and play with him like any other day but this time Noam take it one step too far. A step that will change their friendship forever.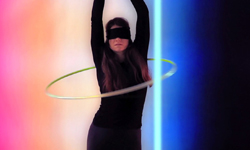 DOROTHEE RECKER (www.dorotheerecker.com)
French-German painter and video artist Dorothée Recker was born in 1984 in Norway and grew up in the south of France. She moved to Berlin in 2011 after completing her studies at the French national school of fine arts in Paris.
The painter (3'25)
A painted canvas is in fact the background of The painter, featuring a blindfolded hula hooper and an animated blue line. Like a painted figure called to life, led by the music and the line, the dancer in the dark – as we guess the painter herself – seems to conduct shapes and colors. Yet it remains uncertain who is running the show.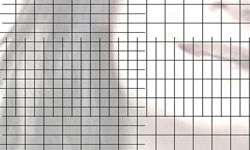 Catching you (1'31)
Playing with lines comes as a common feature in Catching you, video portrait of a girl talking to the camera while smoking a cigarette. Progressively covered by a black grid, the figure gets deconstructed and turns into an abstract composition. The sound of falling rain that covers her voice, bringing an added touch of melancholy, also aims to overwhelm the viewer, to distort his perception on a further level and thus increase the hypnotic impact of the experience.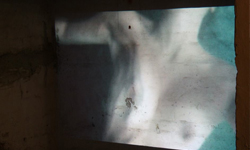 MANUELE MORALES (www.manuelamoralesdelano.carbonmade.com)
Born in Chile in 1986 where she studied Visual Art. She employs different forms of expressions but is often related to video art and installations. She uses the body as a political discourse, exploring the idiosyncratic aspects of Chilean society. Since 2013 she lives and works in Berlin.
 Hydro (3'05)
"Hydro" is the journey of a woman trying to deconstruct the imagery of the female body and the social construction of gender. Putting in manifest the body in all its vulnerability, where the equation of femininity and the visual pleasing, is challenged. Through the liberation of her body the boundaries of patriarchal cultural forms are destroyed.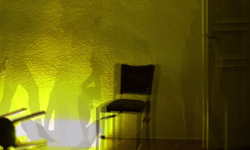 VESSELIN ATANASSOV (www.vesselinatanassov.com)
Born in 1983 in Bulgaria, Vesselin Atanassov studied visual arts at the New Bulgarian University in Sofia as well as interior design at the European Institute of Design in Milan. He is now based in Berlin where he develops various video projects.
Persona (3'40)
All the activities of a regular day executed in this white room. In a sanitized atmosphere a girl sits on a chair while her numerous shadows are achieving all the action she undertook during that day. A reflection on the everyday routine and how one is entirely conditioned by it. Repeating on and on again, over the years the same daily actions in a mechanical way and many times without even being conscious of it.