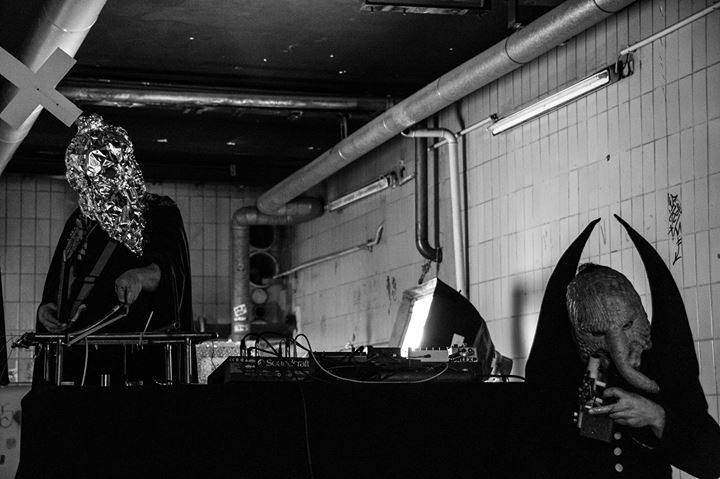 Exhibition: June 27 – July 08
Exhibition opening for 48 Hours NK
>>Friday, June 27
starting at 19:00
Photography exhibition:

Collaborative Works of Dina Schweiger and Joshua Head
Collaborative Works of Torsten Solin and Joshua Head also Torsten Solin's Broken Mirrors series.
Dina Schwieger and Joshua Head  - Österreichische Edelweiß Geschichten
This series of Photographic / multimedia works alongside Photographer Dina Schweiger approach the age old story of the Edelweiß. Black and while analog works using digital composition techniques, Prosthetic makeup, which also involves Sculpture, moulding and casting, painting and makeup application, both genders depicted here through the Phallic faced character Reecard Farché, (aka Anklepants)
Though the works are clearly outlining factual gender hierarchy , they are also conceptual within the mediums used and also the use of the dominant phallic symbol in the facé of either gender, then leaving the viewer to decide the meaning or relate to the nicér. The übergründé an Artistic movement begun by Reecard farché himself, is also felt within these images, you have to close 3 eyes and stand on 3 legs to see this.
Reecard Farché is a shape shifting factual / fictional character that Joshua Head has been working with as a representative for works in countless mediums, since 2008.
>>Saturday June 28
starting at 19:00
Performances by:
Clockyangé | the collaborative work of Reecard Farché and Ratbag
8 min piece feturing vocals , custom software and electronic intruments i.e. (facécontrol2), tesla coil, Guitar String frame ie (fuck machine) , Animatronic
Giorgio Gabber dj set (Das andere Selbst)
donation: 3-5
About:
http://torsten-solin.de
http://reecardfarche.com
Joshua Head (Anklepants) geboren 1980 in Australien
lebt und arbeitet in Berlin
FILM (Auswahl)
2014 Stung – Animatronics Supervisor / Designer /
Puppeteer – Rat pack films
2013 Schossgebete – Prosthetics technician
2012 Storage 24 – Prosthetics technician / creature – Paul Hyett
Prometheus – Special effects technician – Ridley Scott
2009 Where the Wild Things Are – Special effects technician – Spike Jonze
X-Men Origins: Wolverine – Prosthetics technician – Icp/odd studio 2008 Australia – Prosthetics technician – Icp/odd studio
2007 Rogue – Special effects technician – Greg Mclean
2006 Gwoemul – (Foam latex fabricator) (Mould maker) – Joon-ho Bong
The Marine – Special effects technician – John Bonito
2005 Star Wars: Episode III – Revenge of the Sith – Foam lab /special effects
technician – Lucas film/George Lucas
TELEVISION (Auswahl)
2013 Rosa Roth S1Ep31 German Tv – Special effects technician –
T.c Effects Berlin
2010 Channel 4 fright fest – Animatronic / design/ technician – Lifecast.co.uk /
john Scoonrad
2008 Anklepants "Speak you little Facehead" music video – Director, Actor,
prosthetic technician, animatronic technician, editor, writer –
Qwerty/Josh head and Steve Dale
2006 "H2O: Just Add Water" – Prosthetics technician – Jonathan M. Shiff
2005 Hercules – Foam lab/prosthetics technician – Roger Young
2004 Farscape: The Peacekeeper Wars – Foam lab/creature effects technician –
Henson's/Brian Henson
COMMERCIALS (Auswahl)
Grizzly bear (band) Sun in your eyes – Under water special silicone effects – Warp records un-re
2011 Kate moss Basement – Animatronics designer – Artem 2010 Buckler beer – Animatronics designer – Garlic
Unkle pop promo "runaway robot" – Animatronics control system
programming / animator – Streetlight/john Nolan 2008 Energy Australia tvc – Model Maker – Odd studio
Indian Pest tvc – Special effects technician/fabricator – Odd studio
2007 Tooheys New tvc – Model Maker/special effects technician – Odd studio 2006 Wheat Bix breakfast cereal tvc – Special effects technician/foam latex
fabricator/painter/prosthetics technician – Jmbfx
THEATRE
2010 Dr who – Animatronic / design/ technician – Millennium effects
MUSIC
Anklepants-Reecard Farché – Dr Reecard Farché / Vocals Electronics – Qwerty- InTerakt-Detroit underground Love love
Qwerty Records – Owner – Qwerty
Shirlow – Guitarist – Shirlow
Only red jelly beans – Programing / vocals – Qwerty
Squat club – Guitar / Piccolo Bass / vocals / programing – Squat club