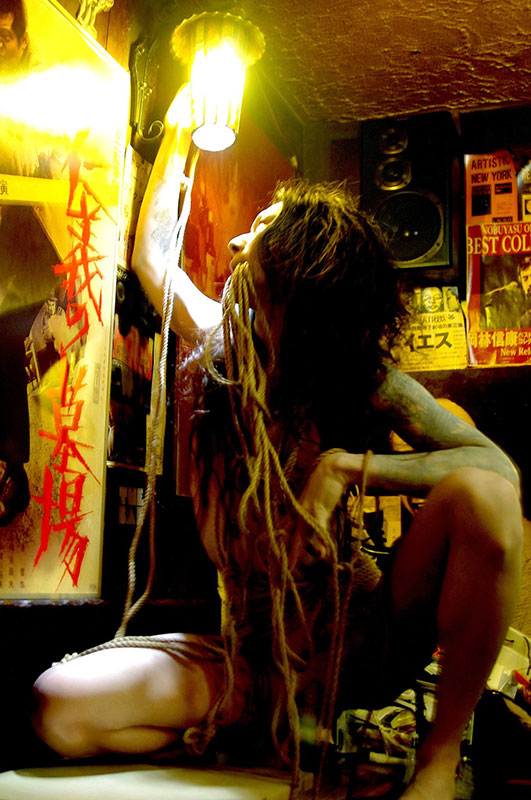 OPENING: March 06 at 20:00  with live performance and after party
EXHIBITION: March 06 – March 13
Bondage and Suspension Performance Kaleidoskop Berlin
As a beginning of two weeks of Performances Videos and Pictures revolving around the theme of Bondage , Performance, S/M , Body Modification… we start with a performance and photography by CoCo Katsura .
Flesh hook suspension
-Out of the Womb- Going Up
:performance by CoCo Katsura human instrument in coraboration with Louis Fleischauer
and Christain tan ( Chello)
Video
2003 creation -Womb – feat.Taizo Hida(butou dancer)
2011 creation -Comeback to begging Point-
2012 creation -Belly Button-feat. kiril bilkov
2013 creation-Life is The puzzle-feat. Eden berlin and Rainer
2014 creation fresh performance video -After That-
Afterwards:
:Dj Sisen(紫泉)
:Arkam Arcadia Spectacular
Noise ,industrial, Experimental
ABOUT THE ARTIST
Born Tokyo, Japan
CoCo Katsura is a:
Japanease Rope Bondage Performer
Fire Performance ( with Dj or solo)
Body Suspension Performer
Choreographer
She has started to work as a Body Modification Performer In the year 2000 in Tokyo Underground scene. Her unique style is a mix of cult Japanease classic form and modern gothic decadence. CoCo Has performed over 100 stages across the world the past 10 years. Mainly in Japan, Holland, Germany, Finland, Englan, Greece, Belgium and France. Her intention towards her art is to reach other people hearts and thoughts by the usage of her body. CoCo is feat. a lot of different artists and trying to make beautiful space productions. Always CoCo's performance has a taste of death…and nature. Death is most beautiful epic of life… and with nature.
Mainly for performance:
Fetish, Gothic scene
Art gallery
some of culture event
Tattoo convention
and of course Bodymodification scene
Now CoCo is living in Berlin, Germany.
https://www.youtube.com/watch?v=GH5ir4Cad8M#t=26
WORKSHOP
On the last day of the show the 13/3/2015 Coco offers and introduction event into bondage and suspension practises and techniques.
50 € participation fee
contact us soon since space is limited. It will be open 10 participants, for those interested , please contact us before , so we can reserve a space.
You can contact us by email
info@kaleidoskop-art.com