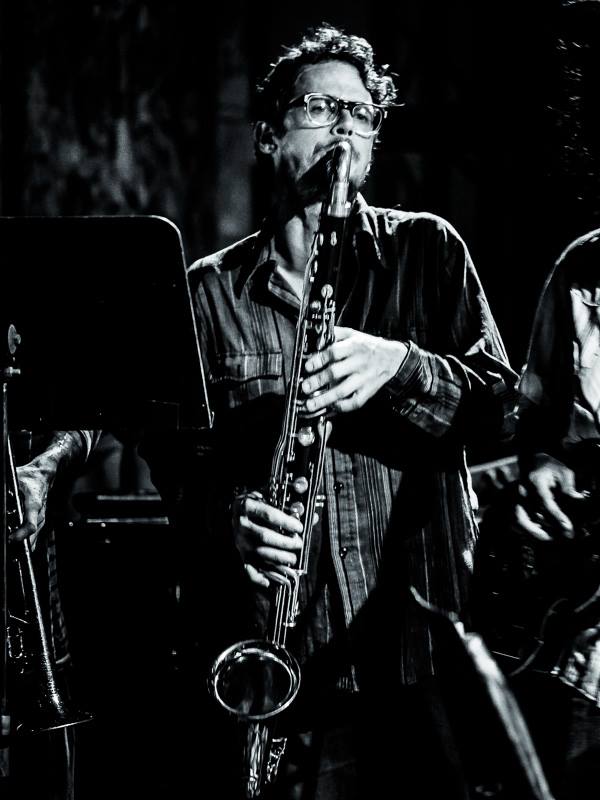 Opening 3pm – Concert 6.30pm
Arrington de Dionyso
An uncompromising voice in contemporary music, Arrington de Dionyso (b. January 4th, 1975) uses the ancient technique of throatsinging combined with a modified bass clarinet and invented instruments to conjure the Utopic Space between shamanic seance and rock and roll ecstasy. Combining his multiphonic vocal work with minimalist instrumentation and a frenzied stage persona, Arrington established the beloved Olympia band OLD TIME RELIJUN in 1995, which released eight records on Calvin Johnson's renowned indie label K Records and toured extensively throughout the Americas and Europe over the next fifteen years. Following the demise of that group, Arrington immediately embarked upon an even stranger journey into a world of Imaginary Syncretisms, creating MALAIKAT DAN SINGA, a throbbing, pulsating "TRANCE PUNK" ensemble in which Arrington combines dancehall rhythms with gamelan scales, singing mystically inspired incantations in Indonesian, self-taught specifically for this project. This lead to extensive tours of Java, Bali, Sulawesi and Lombok in 2011 and 2013 in which Arrington performed with many Indonesian musicians eager to explore new possibilities in combining traditional ritual trance musics with experimental and electrified approaches. Whether as a band leader or a solo performer, Arrington's music evokes an "Ancient Future", sometimes shocking and hallucinatory, always aiming to channel spirit.

3 euro entrance

http://arrington.bandcamp.com/
www.youtube.com/arringtondedionyso
www.arringtondedionyso.tumblr.com
Dj Insultor (Le Petit Mignon / Staalplaat)
Insultor is the head of Berlin record store Staalplaat and the man behind the Petit Mignon projects, a travelling gallery and independent record label and publisher with a strong DIY spirit.