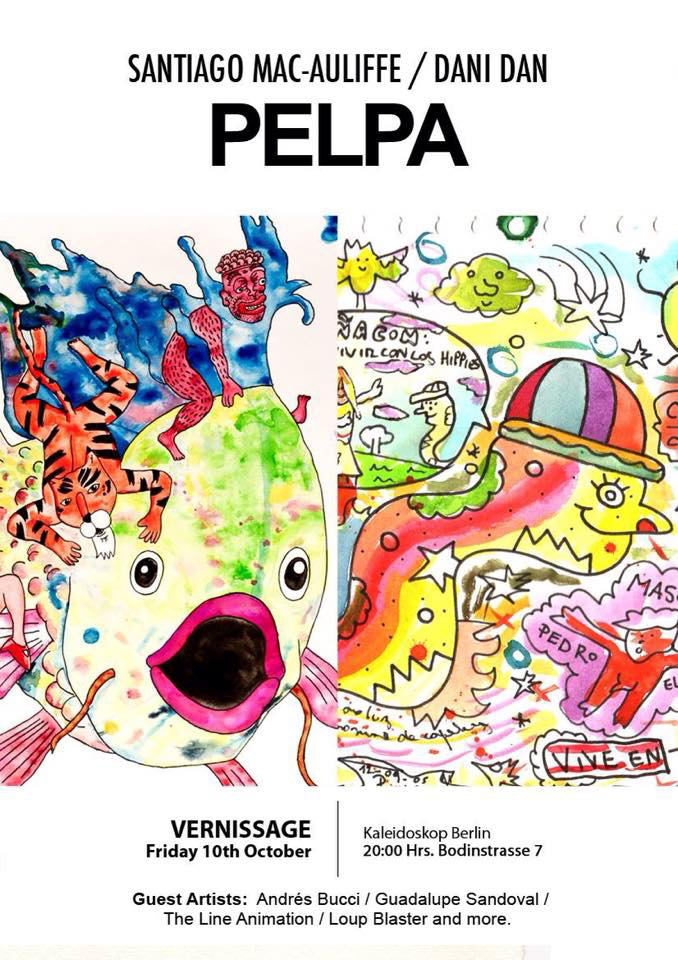 SANTIAGO MAC-AULIFFE / DANIDAN Group Show
Opening: Friday, October 10 starting at 19:00
Exhibition: October 10 – October 24
PELPA
-Because we all need more cartoons in our lives-
Four months ago, Danidan and Santi MacAuliffe discovered a secret universe hidden in plain view right on Kottbusser Damm. Together, they set up shop there and, markers and brushes in hand, unlocked its many secrets. Given their supernatural inclinations, it was a short time before they came to stumble upon myriad different beings: monsters, creatures, fantastic little friends waiting to pop out of the duo's new workshop and into the real world like a sunny little invasion of color and irony. The artists' intention? To spread these characters as far and wide as possible -. Their medium? Humble paper.
This Friday, the fantastic beings born in their workshop will be competing for your attention somewhere deep beneath the streets of Neukölln at Kaleidoskop , Boddinstrasse 7.
There will be large works, small pieces and even a few in-between creations just waiting for a spot on your wall and in your heart. That is to say, there will be something, some technicolor piece of paper, for everyone.
Since these types of supernatural occurences never go unnoticed in those parellel realms, we've also been notified of the presence of a Mother Pignicorn and the birth of countless baby Pignicorns, all of which will be making a cameo appearance at the event in the hopes someone might also take them home .
And, as if all this wasn't enough, the evening will be completed by the screening of a selection of weird, wonderful animated short films and a psychedelic set perfect for putting music to all the color. Does that sound like the perfect start to a Friday night? Because it is.
So come on down. Get trippy. Pet a Pignicorn. Dance a little. Take home a Punk Rat or a Dancing Nun. Remember, they need love too.
more info:
DANI DAN
www.cargocollective.com/danidan
Danidan Tattoos
GUEST ARTISTS
PIGNICORNS
Guadi Sandoval
www.cargocollective.com/guadisandoval
SCREENINGS
http://cargocollective.com/loupblaster/
MUSIC
Andres Bucci
www.soundcloud.com/andresbucci
Text by Anja Simona