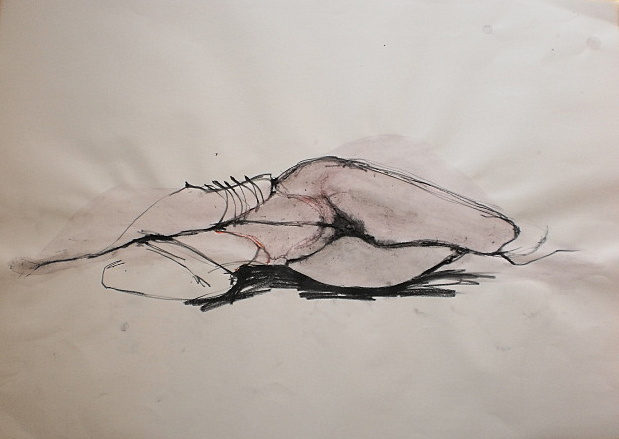 Opening: November 14th 19:00
Exhibition: November 14 -25 2014
Words from the artist:
This exhibit will be a voyage through three various states of mind, in three varying periods of life, in which a self same theme, has continuously evolved and metamorphosed. I kindly invite everyone to take this saunter within my denuded world.
The evening will commence with the introduction of my most recent interdisciplinary project – "START OVER", in the form of a poetry reading, written by a Toronto based lyrical poet, by the name of Adam Katz; and thereon followed by my drawings or so to say "revealing representations of him".
Within "START OVER", we tackled the problem of; "How can lyric poetry and life drawing, which both represent the subject, become self-reflexive and represent representation?" We solved this by representing each other in the act of representation; with nude photos of Adam, taken by me and in turn Adam completed invasive personal interviews with me as source material for his poems.
Beside the smaller formatted drawings, I have included works on canvas, as well as video works which will allow you to observe the course of evolvement up until the most recent works.
I draw the psychological and moral turmoil that results from the internalization of one's environment and culture. The spinal cord with its function in our sexual life is one of the primary repositories of this internalization, so I use shapes such as the spine simultaneously as symbols and as pure forms. The culture that has been altered through internalization is re-externalized by precisely the psychophysiology it has affected, the artist's mind and hand, an axis mediated by the spine.
Working from collaged vintage nude photos or my photos of nude models, I incessantly erase and redraw lines to create symbolic and formal images of frenetic motion, opening a dialogue with video, and conversely, producing materializations that resist photographic reproduction.
http://emiliajagica.wix.com/art#!